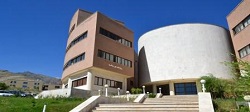 The institute was established in
1993 in Science Faculty. This institute achieved its basic and final licenses from Development Council of Ministry of Science, Research and Technology in 1995 and 1998, respectively. And in 2004, due to extension of activities, the name was changed to Laser and Plasma Research Institute (LAPRI).
The first master program of photonics was held in 2002. Subsequently, the PhD program of photonics and master program of plasma engineering were commenced in 2004 and 2005, respectively. These programs were established with the goal of professional and precise scientific activities in related subjects. The alumni of this institute frequently continue their studies or find a job in various related specialized organizations. The main goal of this research institute is to spread laser science, optics, photonics and plasma by training experts and carrying out fundamental researches in order to extend the frontiers of science and applied researches in industry and sciences.
At the moment, there are 5 approved research groups in LAPRI as following:
1.
Applications of laser
2.
Technology of laser
5.
Plasma engineering
 Moreover, this research institute comprises 18 active laboratories. Now, 16 faculty members are engaged in this research institute.
---
According to the intense need of training efficient human resources in photonics, plasma and laser sciences, great effort has been made by faculty members in order to commence graduate master programs in photonics and plasma engineering for the first time in Iran and in the region. Finally, the first master programs in photonics and plasma engineering were held respectively in 2002 and 2005 by admitting students through entrance exam. This procedure was followed by
establishing these fields in some other academic centers.
As
A step further to complete the cycle of training human resources, the arrangements for establishing the PhD program in photonics have been done, and after obtaining the consent of the Council of Higher Education, the first PhD program in photonics was held in 2004. At the moment, 101 master students in photonics, 31 in plasma engineering, and 66 doctoral students in photonics are engaged in study, research and project. In addition, 250 master and 35 doctoral students have been graduated from 2002 up to now.
In addition to students of photonics and plasma engineering, part of graduate students of physics from Faculty of Science of Shahid Beheshti University do their projects related to their thesis and dissertations in this research institute.
The alumni of this research institute have the capability to carry out research and industrial projects in related industries.
Over the past 10 years, about 350 scientific papers have been published in prestigious ISI indexed journals and scientific-research journals by faculty members of this institute. In addition, more than 450 papers have been presented in prestigious national and international conferences.
In the area of research projects, by now 85 internal organizational projects have been concluded between faculty members and Vice-president for Research of Shahid Beheshti University, and 79 external organizational projects have been concluded with various organizations and institutes such as Company of Research and Development of Oil Industry, Center of New Industries, Ministry of Defense, Ministry of Science (The Center for International Scientific Studies and Collaboration (CISSC)), Iran Telecommunication Research Center, Iranian Space Agency and other institutions. Some of these projects have been completed successfully and some are in progress.
The honors of Laser and Plasma Research Institute (LAPRI)
---
One of the most important events in the history of this institute is the visit of the Supreme Leader of Islamic Revolutionfrom LAPRI in spring 2003.
On that date, he had a one-day visit from Shahid Behshti University. Beginning his visit from LAPRI, he visited all laboratories of this institute during his presence.
The honors of LAPRI are as following:
Achievement of Top Ranked Research Project in 2000 in international festival

Selected as the Top Researcher of Iran in 2004 by the Ministry of Science, Research and Technology

Achievement of Top Ranked Applicable Research in the 20th Khwarizmi International Festival in 2006

Selection as the Top Director of Research in 2006 by the Ministry of Science, Research and Technology

Selection as the Top Researcher of Iran in 2006 by the Ministry of Science, Research and Technology

Establishment of the Academic Excellence of Photonics in Laser and Plasma Research Institute in 2006

Selected as the Best Professor of Iran in 2008

Selected as the Top Director of Research in 2010 by the Ministry of Science, Research and Technology

Establishment of the Academic Excellence of Plasma and its Applications in Laser and Plasma Research Institute in 2011

Selected as the Best Professor of Iran in 2012 by the Ministry of Science, Research and Technology

---